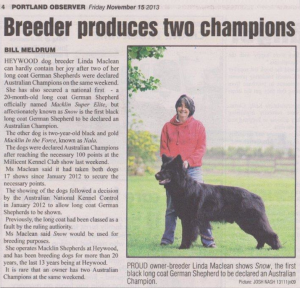 Heywood dog breeder Linda Maclean can hardly contain her joy after two of her long coat German Shepherds were declared Australian Champions on the same weekend.
She has also secured a national first – a 20 month old long coat German Shepherd officially named Macklin Super Elite, but affectionately known as Snow is the first black long coat German Shepherd to be declared Australian Champion.
The other dog is two-year-old black and and gold Macklin In The Force, known as Nala.
The dogs were declared Australian Champions after reaching the necessary 100 points at the Millicent Kennel Club Show last weekend.
Ms Maclean said it had taken both dogs 17 shows since January 2012 to secure the necessary points.
The showing of the dogs followed a decision by the Australian National Kennel Control in January 2012 to allow long coat German Shepherds to be shown.
Previously, the long coats had been classed as a fault by the ruling authority.
Ms Maclean said Snow would be used for breeding purposes.
She operates Mackin Shepherds at Heywood and has been breeding dogs for more than 20 years, the last 13 years being at Heywood.
It is rare that an owner has two Australian Champions at the same weekend.