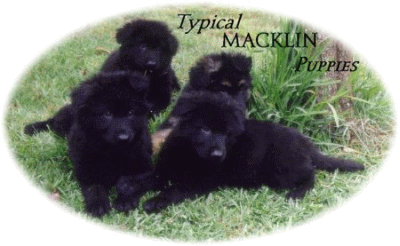 Our fluffy blacks just loved to be cuddled.
German Shepherd
'New Colour ruling'
Sable puppy buyers. 

The Australian National Kennel Control, has a new colour ruling. The Sable dog colour is no longer allowed to be registered as Sable This is only in Australia, the Sable colour is recognised world wide. We were allowed to register this colour 12mths ago. Attached is a copy of the colour standard in the ruling by the A.N.K.C . But they have introduced a colour called Solid Grey which we never had before so this has allowed me to follow a colour that has not been seen here before. Solid Grey would be the same as Solid Black all one colour Not a Sable as they are two toned.
All Roxy's Sables and Asha's will be now registered and Black with Brown Markings. As they are not Grey nor Solid Grey.
Sables are now called Black with Reddish-Brown. Black with Brown or Yellow or light grey markings.
A.N.K.C. Colour for German Shepherd
Black with reddish-brown, brown, yellow or light grey markings. Solid black or solid grey. Greys with darker shading show a black saddle and mask. Unobtrusive, small white marks on chest as well as very light colour on insides of legs permissible, but not desirable. Nose must be black in all colours. Dogs with lack of mask, light to piercing eye colour, as well as light to whitish markings on the chest and the insides, pale nails and red tip of tail are considered to be lacking in pigmentation. The undercoat shows a light greyish tone. The colour white is not accepted.
---
Our puppies have their first vaccination at 6 weeks of age, they are vet checked and regularly wormed. Prior to going to their new homes we commence lead training on our babies and by 8 weeks of age they are usually becoming quite adapt to a leash. We love it when our puppy buyers let us know how their youngster is doing and we are always available for help and advice if asked.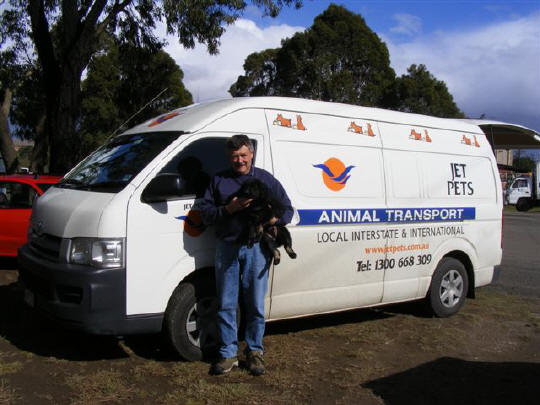 "All our puppies travel with and are loving cared for and looked after by jet pets"
---
Genuine Enquiries – are welcome email us here
Orders welcome – All orders are confirmed on whelping with a non refundable deposit payable with the balance of the puppy payment required by or on the date of puppy pick up. (at 8 weeks of age)
Lay-by is welcome –  With full payment required by or on the date of puppy pick up. (at 8 weeks of age).
Please note –  There is no refund on Lay-By monies paid but we can transfer balance paid to our next litter if need be.