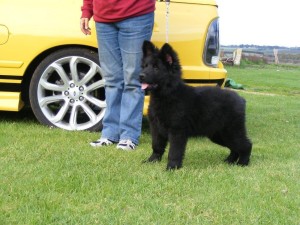 'Macklin The Protector' (LSC)
Hank

This is Hank 12 weeks. He is from Poser and Bingo. He is very large boned solid puppy with a lovely nature.
We look forward to seeing how he goes in his first show in October.
---
 
 
 
 Hank 12 weeks
 Hank 12 weeks
 You are never too young to start show training
 
 
Hank 9 months
 Hank 9 months
Hank 9 months
Hank show training at 12 mths old
Are we there yet?
Mt Gambier Show
Hank achieved 5 Best of Breeds over the long weekend at Mt Gambier dog show and now has 30 points towards his
Australian Championship title.
---
Pedigree for 'Macklin The Protector' (LSC)
German Shepherd (LSC)Solid Black
Pedigree for Hank
Sire
Macklin Imaposer (LSC)
Solid Black
Sire
Macklin Falcon Shadow
Solid Black
Sire
…………………………
Dam
…………………………
Dam
Seigen Vantage Nikita
Black/Gold
Sire
…………………………
Dam
…………………………
Dam
Macklin China Chip
Solid Black
Sire
Scherzar Eli Elwah
Sable
Sire
…………………………
Dam
…………………………
Dam
Macklin Snow Gypsy
Solid Black
Solid Black
Sire
…………………………
Dam
…………………………